Compare our prices to Leslies© Amazon© and WalMart© !!!
Tequila Lime Chicken - From FoodNetwork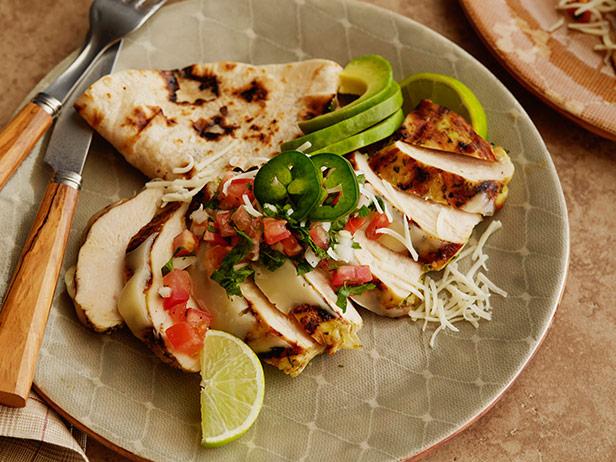 Click Image to goto Source
Ingredients:
▻4 limes
▻1 cup tequila
▻1/4 cup olive oil
▻2 teaspoons kosher salt
▻5 cloves garlic
▻1 jalapeno, sliced
▻1/2 bunch chopped fresh cilantro
▻12 boneless, skinless chicken breasts
▻2 cups grated Monterey Jack
▻Slice open the limes and squeeze the juice into a food processor or blender. Add the tequila, olive oil, salt, garlic, jalapenos and cilantro. Blend the mixture until totally combined. Add the chicken to a large plastic bag and pour in the lime-tequila mixture. Seal the bag and marinate in the fridge for several hours or overnight.

▻Remove the chicken from the bag and grill it over medium-high heat. Rotate the chicken 45-degrees on both sides to create nice grill marks, and continue grilling until the chicken is cooked through, 4 to 5 minutes per side.

▻Melt the Monterey Jack over the top of the sliced chicken breasts.
---
Sage Rubbed Pork Chops with Warm Apple Slaw - From FoodNetwork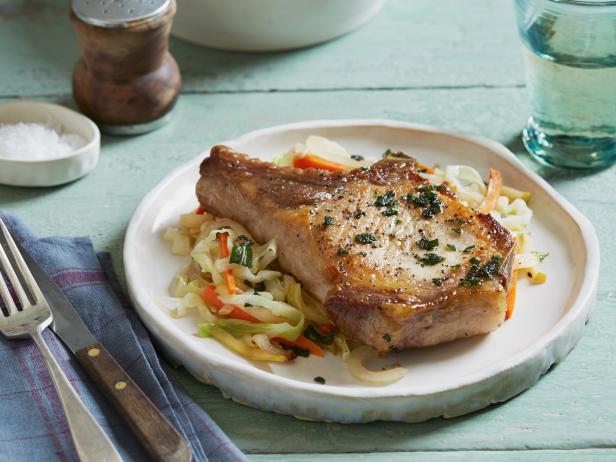 Click Image to goto Source
Ingredients:
▻4 teaspoons chopped fresh sage or 1 1/2 teaspoons dried
▻1 large clove garlic, minced (about 1 teaspoon)
▻1 teaspoon salt, divided
▻Freshly ground black pepper
▻4 (3/4-inch) bone-in pork loin chops
▻1 large onion
▻1 large Granny Smith apple, cut in 1/2, cored
▻1/2 head green cabbage, cored
▻3 large carrots
▻2 teaspoons olive oil, divided
▻2 tablespoons cider vinegar
▻3/4 cup low-sodium chicken broth

▻Combine the 3 teaspoons of the fresh sage or 1 teaspoon dried, garlic, 1/2 teaspoon of salt and a few grinds of fresh pepper. Rub this mixture all over the pork chops and let the chops sit at room temperature for 10 minutes. Meanwhile, thinly slice the onion, apple and cabbage and julienne the carrots (very thin sticks).

▻Heat 1 teaspoon of the oil in a large nonstick frying pan until hot but not smoking. Add the chops and brown on both sides, 1 to 2 minutes per side. Remove.

▻Carefully wipe out the pan. Heat the remaining teaspoon oil over moderate heat and add the onion, apples and remaining teaspoon fresh sage or 1/2 teaspoon dried. Cook, stirring occasionally, until the mixture is soft and golden brown, 4 to 5 minutes. Add the cabbage, carrots, vinegar and 1/2 teaspoon salt and continue cooking until the cabbage and carrots begin to soften, about 5 minutes. Add the broth and return the pork chops to the pan burying them in the vegetable mixture. Cover and cook just until the pork chops are just slightly blush in the center, 5 to 7 minutes longer.
---
Tequila Cilantro Lime Sliders with Caramelized Onions - From Greg M
Click Image to goto Source
Ingredients:
Hamburger Awesomeness
▻2 pounds ground beef
▻1/4 cup chopped dried onion
▻3 tbl spoons garlic powder
▻1/4 cup mustard
▻3/4 cup ketchup
▻1 cup honey
▻1/4 cup worchestshire
▻1 tbl Salt
▻2 tbl pepper
▻2 lg yellow onions, sliced
▻2 sticks of unsalted butter
▻1 package of King Hawaiian Dinner Rolls

For the sauce:
▻2 cups miracle whip
▻3 tbl tequila
▻3-4 tbl fresh lime juice
▻3 tbl pickled jalapenos
2 tins of chopped green chilis are an amazing substitute and have no "heat"
▻3/4 cup chopped fresh cilantro
▻Kosher salt and freshly ground pepper (heavy on the pepper)

▻Combine beef, dried onion, garlic powder, mustard, ketchup, honey, worchestshire, salt and pepper in a large bowl. Set in refrigerator for 1 hour

▻Combine the miracle whip, tequila, lime juice, Jala/chilis, and cilantro in a food processor. Process until smooth, salt and pepper to taste. Set aside in refrigerator until ready to use

▻Melt 1 stick of unsalted butter a large nonstick pan over medium/low heat. Add the sliced yellow onions, salt and pepper, and let them sautee slowly until they reach a nice light caramel brown. about 40 minutes

▻Pre-heat grill to high heat. Make hamburger patties approximately 1 inch thick and 2-3 inchs in diameter. Spinkle with salt and pepper, grill for 3-4 minutes a side for medium rare. Remove from grill and let them rest 4-5 minutes.

▻Melt remaining 2 sticks of butter in a small sauce pan. Dunk each half of each roll into the butter. When you have removed the sliders from the grill, place each half of the buttered rolls where you cooked your sliders, cook approximately 30 seconds.

▻ Place sauce on bottom part of bun, add slider, caramelized onions, sauce to top bun. Enjoy!!!
---
Easy Baby Back Ribs
Click Image to goto Source
Ingredients:
▻2 racks baby back ribs
▻6 tablespoons Vans Pig Stand Rib Rub
▻Head Country BBQ Barbecue Sauce



▻Preheat the oven to 300 degrees F. Line a large baking sheet with a piece of aluminum foil that is large enough to cover the pan twice (you will be folding this over the ribs and sealing it).

▻Arrange the ribs, meat side up, in one layer on the prepared baking sheet. Divide the seasoning evenly between the 2 slabs of ribs, coating them well on both sides. Fold the extra length of foil over the ribs, and seal it tightly on all sides. Place the baking sheet in the oven and bake, undisturbed, for 2 1/2 to 3 hours, or until the ribs are very tender.

▻Pre-heat grill to medium-high heat.

▻Remove the baking sheet from the oven and peel back the foil so that the ribs are exposed. Using a basting brush or the back of a spoon, coat the meaty side of the rubs lightly with barbecue sauce. Remove from the foil and place the slabs of ribs, meaty side up, on the grill and cook until the barbecue sauce is thickened and lightly browned, 5 to 10 minutes.


---
Ginger Pineapple Shrimp
Click Image to goto Source
Ingredients:
▻ 2 tbl fresh lime juice
▻ 2 tbl olive oil
▻ 2 tsp minced fresh gingerroot
▻ 2 tsp minced garlic
▻ 1 tsp red pepper flakes
▻ 16 medium shrimp, shelled and deveined
▻ 1 small pineapple, peeled, cored, and cut into 1-inch cubes
▻ salt and pepper to taste


▻In a bowl, combine the lime juice, oil, 2 teaspoons of the ginger, garlic, and pepper flakes. Add the shrimp and pineapple chunks, toss to combine, and let marinate about 15 minutes. Remove from the marinade.

▻Pre-heat grill to medium-high heat.

▻Alternately thread the pineapple chunks and shrimp onto metal or bamboo skewers. Grill until the shrimp are cooked through and the pineapple chunks are marked, 2 to 3 minutes per side. Remove from the grill.


---
Have a recipe you would like to share? Let us know to be featured here!